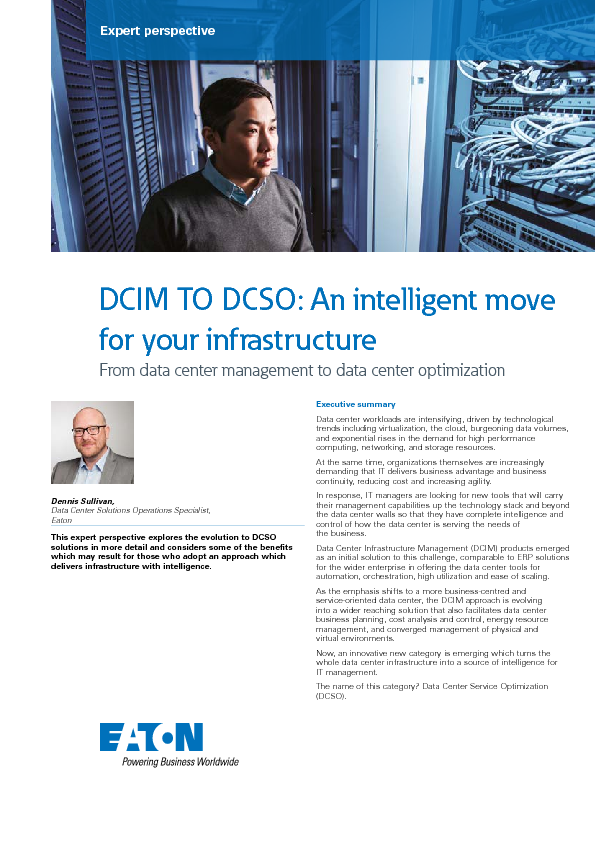 Client: Eaton Electric Ltd
Format: whitepaper
Size: 174 KB
Language: English
Date: 03.04.2017
DCIM TO DCSO: An intelligent move for your infrastructure
Data center workloads are intensifying, driven by technological trends including virtualization, the cloud, burgeoning data volumes, and exponential rises in the demand for high performance computing, networking, and storage resources.
Data Center Infrastructure Management (DCIM) products emerged as an initial solution to this challenge, comparable to ERP solutions for the wider enterprise in offering the data center tools for automation, orchestration, high utilization and ease of scaling.
As the emphasis shifts to a more business-centred and service-oriented data center, the DCIM approach is evolving into a wider reaching solution that also facilitates data center business planning, cost analysis and control, energy resource management, and converged management of physical and virtual environments.
Now, an innovative new category is emerging which turns the whole data center infrastructure into a source of intelligence for IT management.
The name of this category? Data Center Service Optimization (DCSO).