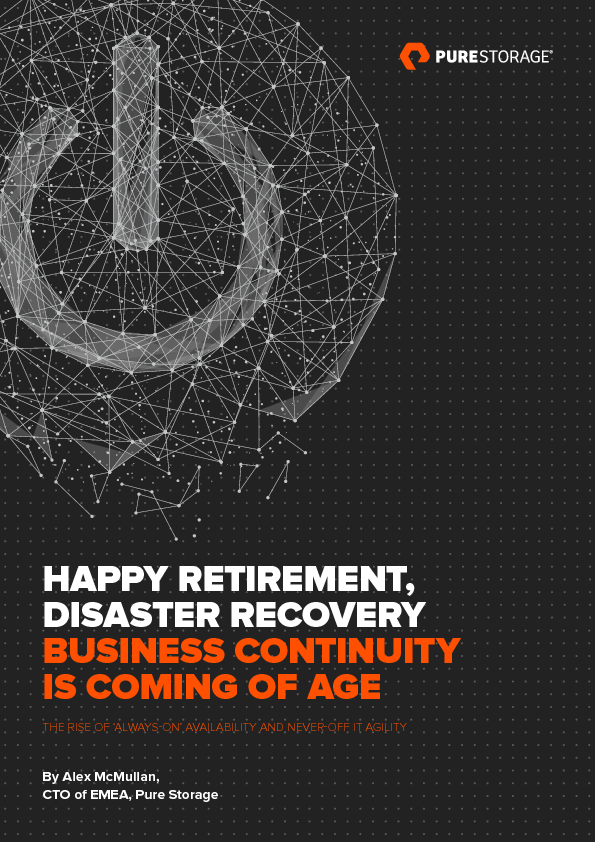 Client: Pure Storage Ltd
Format: whitepaper
Size: 1.57 MB
Language: English
Date: 09.10.2018
Happy Retirement, Disaster Recovery - Business Continuity Is Coming Of Age
At no other time has data played such a crucial role in the success of our commercial sector, and no more so than in financial services. We can see this powerfully illustrated when we pause to consider the growth of data driven 'technologies' such as Artificial Intelligence and their prevalence in driving innovation in areas such as risk management, multi-channel customer experience and fraud detection. So keen is the sector to use data to deliver advantage, that PwC says startups with a strong AI-based offer attract some of the most lucrative funding – to the tune of $1 billion over the past two years.
However, the more digital our businesses become, the greater the risk of downtime. The more complex our IT architectures become – running on public cloud services and hybrid platforms, spanning the globe or embracing consumerisation of IT – the more difficult and costly Disaster Recovery gets.
While we've touched on the financial costs of downtime, the damage goes further. Imagine high frequency trading is paused even for moments. What if the data that your insurance agents use to analyse the optimum premiums goes down even for a few minutes. The reputational damage to your brand is significant, not to mention the lost revenue from stalled trading. Ultimately, who is responsible? The CIO and above – so the cost of the personal reputations is increasingly factored in, given the publicity that so often surrounds the failure of IT systems to 'perform'.
With the stakes so high, it's essential to assess whether the traditional approach to Disaster Recovery is still up to the challenge.