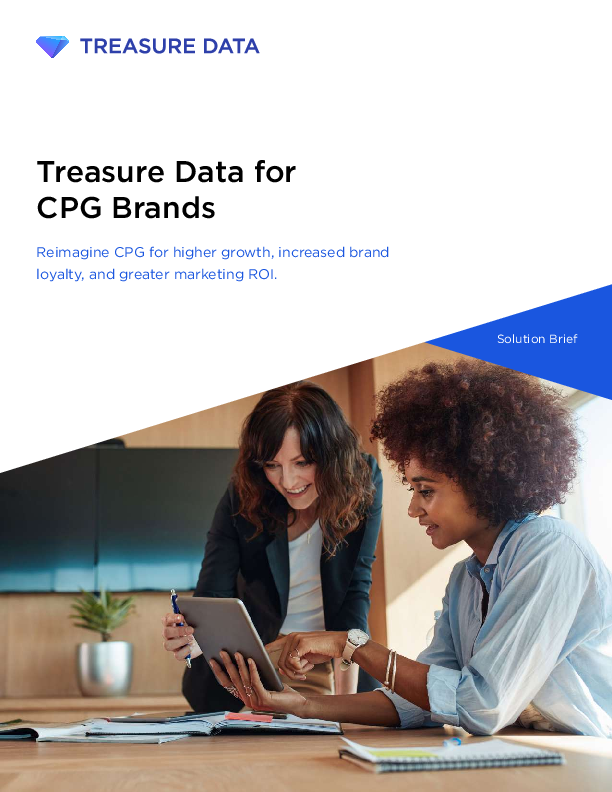 Client: Treasure Data
Format: Whitepaper
Size: 302 KB
Language: English
Date: 13.05.2022
Treasure Data for CPG Brands: Reimagine CPG for higher growth, increased brand loyalty, and greater marketing ROI.
Brand marketing is everything for the CPG industry. Transforming products into trusted household names used to be the goal. But that's no longer enough to win consumer engagement. Simply put, it doesn't matter if consumers know of a brand. What's important now is for the brand to know its consumers.
And that's just one factor contributing to the tectonic shifts in the CPG industry. Changes in demand drivers, rapidly evolving buying journeys, and a variety of new entrants, new distribution models, and new digital channels have all conspired to throw the CPG industry off balance.
As a brand leader, your focus is on delivering consistent, seamless online-and offline experiences, growing consumer relationships, and protecting individuals' privacy and security. The right customer data platform (CDP) is critical to reach buyers and out-pacing your competition. A CDP integrates data from across all of your engagement channels to create a unified consumer view, providing CPG manufacturers with the gold standard for consumer information management.
With real-time data acquisition and enterprise-grade scale, Treasure Data enterprise Customer Data Platform creates a single source of truth—eliminating silos and resolving data complexity to help you better model, target, and personalize consumer engagement.