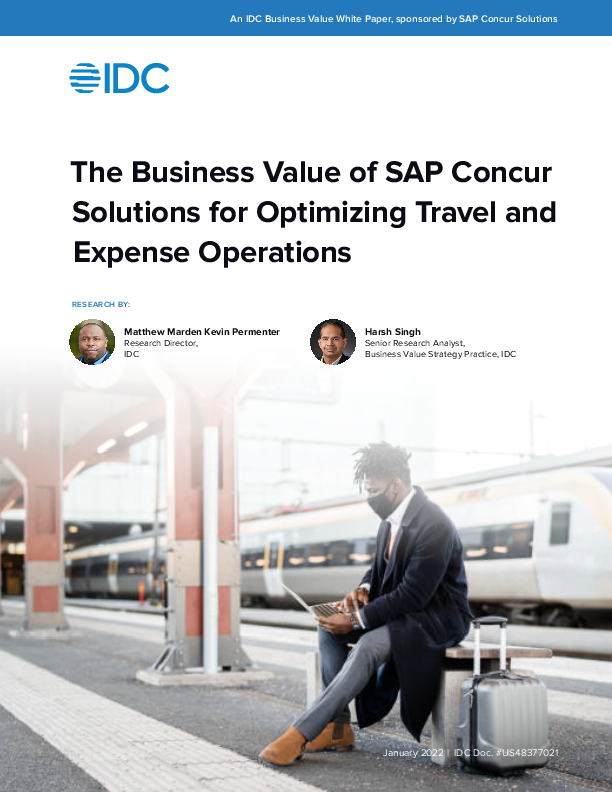 Client: Concur Tech(UK)Ltd
Format: Report
Size: 2.49 MB
Language: English
Date: 31.01.2023
2022 IDC Report: The Business Value of SAP Concur Solutions
The travel and expense paradigm, as we knew it, is being forced to change as it is beset with global socio-economic uncertainty and dramatic business model changes, including growth in digital-first models and remote working. Today's finance departments must have the tools capable of helping users improve operational efficiency and enhance the employee and business traveller experience even amid such swirling winds of change. As busines travel is returning, finance leaders and travel managers will need to be open to upgrading their operational infrastructure.
SAP Concur solutions integrate travel and expense processes and data to help organisations manage employee spending on an end-to-end basis, improve transaction visibility, and optimise policy compliance. To evaluate the real-world effectiveness of SAP Concur solutions, IDC conducted in-depth interviews with several worldwide organisations using the solutions for their business travel and expense reporting and operations.
IDC analysis found that these organisations realised significant value from SAP Concur solutions by:
• Fostering greater business efficiencies in travel and expense management and providing significant savings for professional staff
• Increasing the productivity of finance and travel support staff responsible for processing business travel and expense reports
• Enabling business travel savings based on the easier implementation of and compliance with organisational travel policies while also minimising data loss
Download the full report to learn how the leading organisations are optimising their travel and expense operations with SAP Concur solutions.