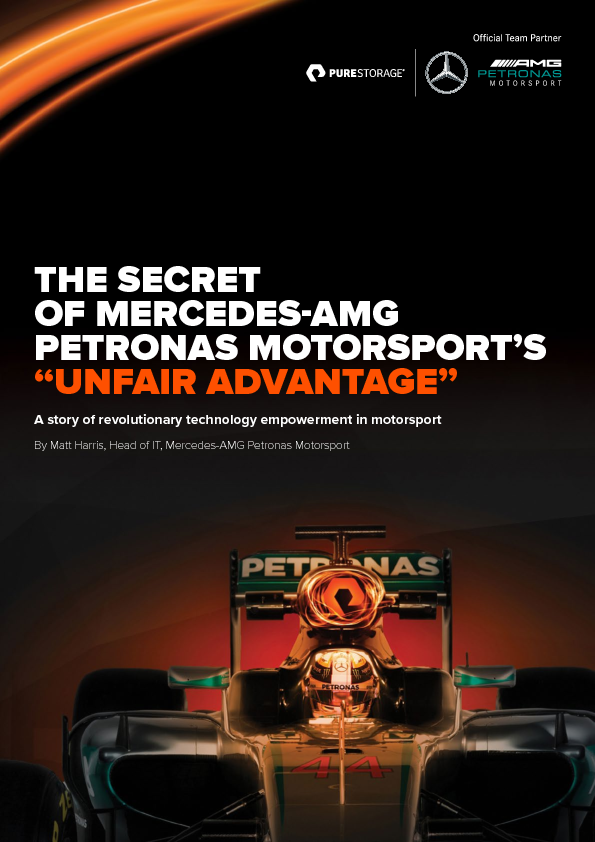 Client: Pure Storage Ltd
Format: whitepaper
Size: 1.02 MB
Language: English
Date: 09.01.2018
The Secret of Mercedes-AMG Petronas Motorsport's "Unfair Advantage"
A story of revolutionary technology empowerment in motorsport.
Today, every kind of motorsport organisation, from karting clubs that hothouse the next generation of world-class drivers to Formula One itself, deploys data-driven performance strategies to ensure theirs is the winning approach. Data streams in from across the ecosystem in real-time, forming an essential pool of intelligence.
Data has a profound impact on performance. Every decision must be made without error, risk and reward must be finely balanced, engines must be tuned precisely, and every conceivable environmental scenario must be modelled to ensure onboard systems can cope with any eventuality.
While basic telemetry has been used since the 1980s to stream live data from cars to pit teams, significant advances in engineering and IT have ushered in the dawn of big data. Combined, big data and motorsport are a marriage made in heaven since both are reliant on velocity to make a winning difference. In fact, it is precisely this ability to collect large volumes of data at speed that generates crucial competitive advantage.
So what are the technologies that we at Mercedes-AMG Petronas Motorsport use to give us a 'world-class advantage'? Let's take a look.