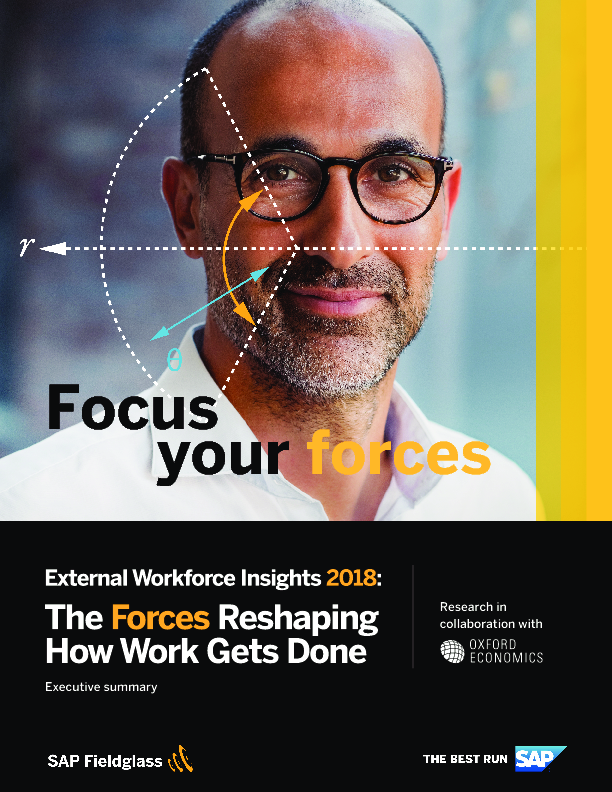 Client: SAP Deutschland SE & Co. KG
Format: Case Study
Size: 11.2 MB
Language: English
Date: 29.11.2018
External Workforce Insights 2018: The Forces Reshaping How Work Gets Done
The rapid growth of the external workforce—that is, the use of both non-payroll workers and contracted services providers to get work done—is one of the most important business stories of our time, with far-reaching implications for both employers and employees. Yet most companies are still figuring out the best ways to manage this extended workforce, and too many C-level executives are not paying close enough attention. Those who manage external labor effectively are finding it to be a driver of competitive advantage, but others risk being left behind as their rivals make better use of these critical human resources.
How can businesses gain better value from independent contractors, consultants, and temporary workers, and from services providers like consulting firms, marketing agencies, and facilities management companies? To find out, we collaborated with Oxford Economics to survey 800 senior executives—one-third of them C-suite leaders, including chief procurement officers and chief HR officers—in 16 industries and more than a dozen countries.
The results provide an unprecedented deep dive into the ways the external workforce is sourced, managed, and deployed—and how it can pay off for a business.