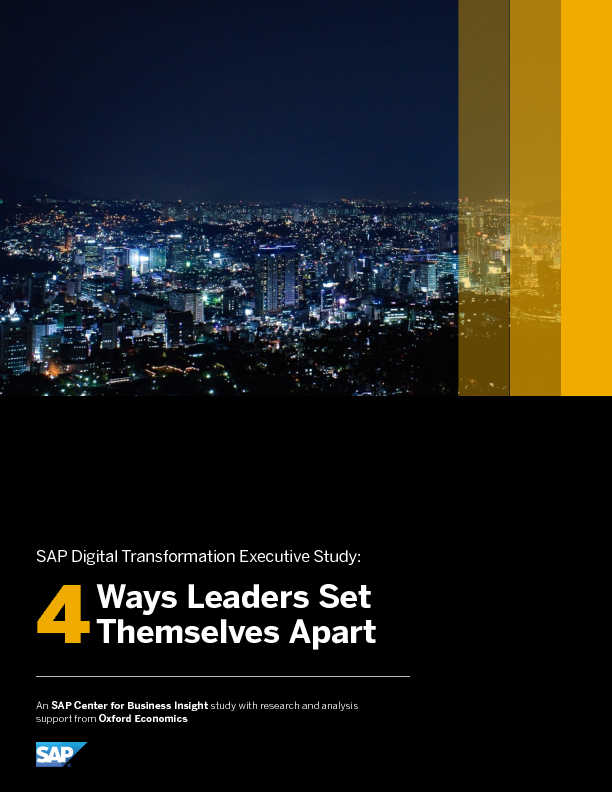 Client: SAP Deutschland SE & Co. KG
Format: Case Study
Size: 3.38 MB
Language: English
Date: 29.11.2018
Digital Transformation: 4 Ways Leaders Set Themselves Apart
Few people realize that electric cars have actually been around for more than a century. That's because our definition of "car" – our mental model – has for almost all that time required the presence of a gasoline-powered engine. That is, until Elon Musk came along.
With charisma, ingenuity, engineering expertise, and the determination to build a company entirely around a purpose-built electric car, Musk first persuaded investors and then the public that a car that needed no gasoline was not only viable but desirable.
Today, businesses in every industry need their own Elon Musks to shatter another entrenched way of thinking: that technology change is an incremental shift within an existing operating model. A new study by the SAP Center for Business Insight, conducted in collaboration with Oxford Economics, indicates that when it comes to digital transformation, companies that fail to get beyond an incremental mindset – and view technology as a tool rather than an integrated part of a vastly different business future – risk their very survival.